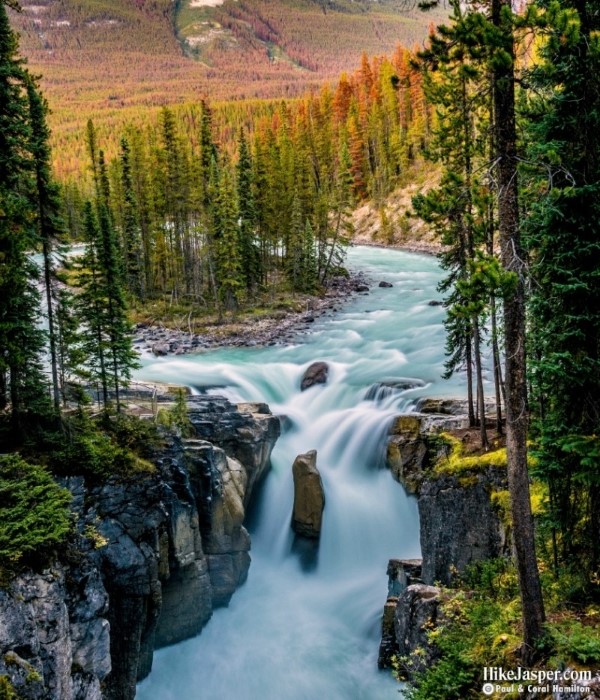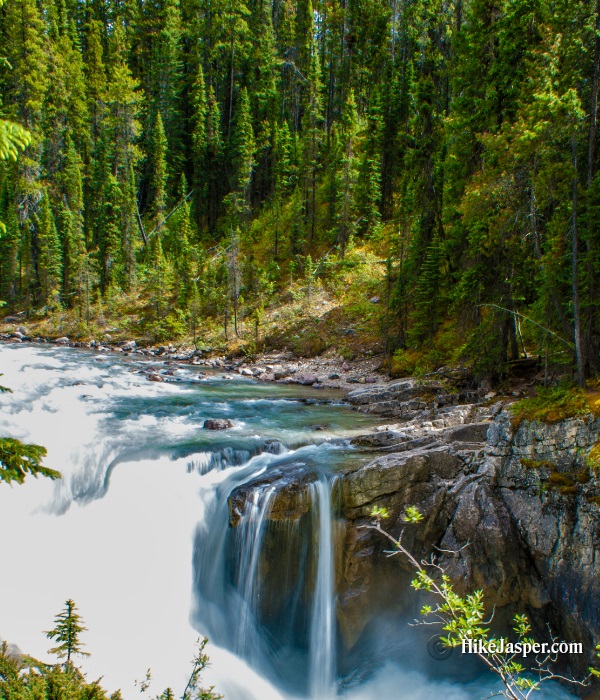 About Sunwapta Falls
Jasper National Park's Sunwapta Falls
Sunwapta Falls is a pair of waterfalls of the Sunwapta River located in Jasper National Park, Alberta, Canada.

Sunwapta falls are accessible via a 600-metre (2,000 ft) access road off Jasper's Icefields Parkway, which connects Jasper and Banff National Parks. Sunwapta falls have a drop of about 18.5 metres (61 feet). Sunwapta is a Stoney language word that means "turbulent water". The falls is most spectacular in the late spring when the spring melt is at its peak.

There are two falls, a lower and an upper one. The one most people see is the upper Sunwapta falls, as access is easier. The lower Sunwapta falls are a short distance away. The water originates from the Athabasca Glacier, and volumes are higher in early summer because of glacial melting. It is a Class 6 waterfall, with a drop of 18 m (60 ft) and a width of 9.1 m (30 ft).


About Sunwapta Falls
In 1892, AP Coleman gave Sunwapta Falls' name the Stoney Indian word for "turbulent river". While this is a bit less of a hike and more of a viewing experience, you can place a fair amount of time hiking in Sunwapta Falls' areas, taking in the many different views of this amazing waterfall and canyon.

Sunwapta Falls is a beautiful natural attraction located in Jasper National Park, Alberta, Canada. It is one of the many stunning waterfalls in the Canadian Rockies and is known for its impressive cascades and scenic surroundings


Sunwapta Falls Location
Sunwapta Falls is situated on the Sunwapta River, a glacial river that originates from the Athabasca Glacier in the Columbia Icefield. The falls are approximately 55 kilometers (34 miles) south of the town of Jasper in Alberta.


Accessibility
The falls are easily accessible by road and are located just off the Icefields Parkway (Highway 93). Visitors can reach the falls by car, and there are parking areas near the viewpoints.


Upper and Lower Sunwapta Falls
Sunwapta Falls consists of two main sections: the Upper Falls and the Lower Falls. The Upper Falls are easily accessible from the parking lot and are known for their powerful rush of water as the river plunges through a narrow gorge. The Lower Falls are further downstream and offer a more tranquil setting, with the river cascading over a broader area.


Hiking and Viewing Sunwapta Falls
There are well-maintained hiking trails that provide excellent viewpoints of both the Upper and Lower Falls. These trails offer visitors the opportunity to get closer to the falls and enjoy different vantage points for photography and appreciation of the natural beauty.


Sunwapta Falls Scenic Beauty
The area surrounding Sunwapta Falls is incredibly picturesque, featuring breathtaking mountain scenery, dense forests, and wildlife. It is common to see various bird species, including eagles and ravens, as well as small mammals like squirrels and chipmunks.


Seasonal Variation
The appearance of Sunwapta Falls can vary depending on the time of year. In the summer, when the glaciers melt, the water flow is higher and more impressive. During the winter months, the falls can freeze partially, creating an entirely different and equally captivating landscape.


Activities from Sunwapta Falls
Besides admiring the falls, visitors can engage in various activities in the region, such as hiking, wildlife spotting, river rafting and photography. Additionally, there are tour operators offering guided excursions to explore the Columbia Icefield and nearby attractions like Athabasca Glacier.

When visiting Sunwapta Falls please follow Jasper Natiuonal Park guidelines, respect wildlife, and leave no trace to preserve this beautiful place for future generations to enjoy.